ENROLLMENT NOW OPEN: LIMITED to 50
Reinventing The Tattoo Evolution: A Hands On Learning Experience

In this 48 week interactive course, Guy Aitchison guides you through the fundamentals of effective tattoo design and technique. Every week participants get a combination of written chapters, webinars, recorded exercises and tattoo challenges along with Guy's Live Monday Night Exercises that he leads every week, which you can join via Zoom. Enrollment is open 3 times a year before each 16 week trimester begins.
Next Trimester enrollment starts in:
For all skill levels, from apprentices to 20+ year vets, join us before it sells out!

you will have immediate access to:
Orientation Course - Includes foundational

webinar

, warm up exercises, Pre-course Tattoo/Art challenge.

A personalized live goal setting strategy & critique session with Guy Aitchison. Submit three of your favorite images of tattoos or original art, the priority you are working on, and Guy will pick one to critique during the live orientation session.


Reinventing the Tattoo thumbnail sketch book. Reinventing the Tattoo is about regular practice, and after filling up this book with thumbnails you will see

improvement

no doubt!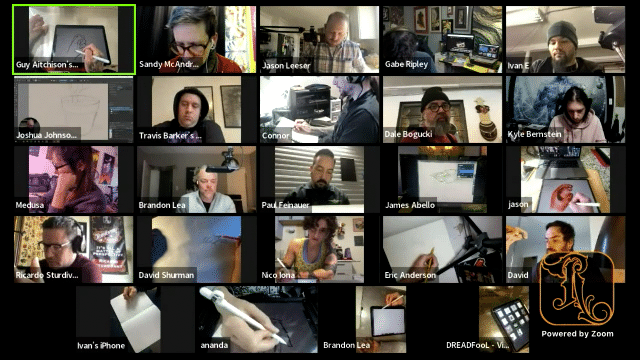 Evolve your tattooing!

Thousands of tattooers who have learned with the Reinventing the Tattoo publications and webinars can imagine what it would be like to have a guided tour of the curriculum with Guy Aitchison and dozens of other like-minded students/tattooers/apprentices. The starting class from last trimester (2/14/22) knows the benefits firsthand, and now you have the opportunity to sign up for the next trimester a Reinventing the Tattoo evolution.
Weekly live exercises with Guy Aitchison each Monday 9pm EST
Hours of content released in order each Tuesday
Days of videos
Dozens of exercises
Personalized Goal Sessions & Critiques
Throughout this course you will have access to:
Next Trimester starts June 14th
Enroll today, seat limited.
Reviews
"Without a doubt I would absolutely recommend Reinventing The Tattoo and in particular the Monday night classes. The benefits are tremendous and as a tattoo artist it's a no brainer."
Bruno Salvatierra

Tattoo Artist

"I have been recommending Reinventing The Tattoo for the last 18 years of my career... because it's just such an asset.There is just so much in there."
Markus Lenhard

Tattoo Artist

"I tell everyone who I come in contact with how awesome Reinventing The Tattoo is and if you want to be electrified and you want to be inspired this is the place to go."
Lori Lillimagi-Boehm

Tattoo Artist

Guy Aitchison

Tattoo Artist, Painter, Founder

About
Guy Aitchison began tattooing in 1988 and started his journey into the educational side of things not too long afterwards. His first seminar, he handed out a 30 page booklet for artists to take home and once several more of those had been made he decided to put them together to create "Reinventing The Tattoo". Since then it has evolved from a 3 ring binder to a hard cover book, to an online platform to where we are now. Guy has been helping tattoo artists become better for decades.